Hypnotism has been around for over 150 years and, although it still faces resistance from some areas, it is becoming more and more of a viable form of treatment. There is a lot of myth and scepticism surrounding the art of hypnosis but the fact remains that it can be used as an effective way of treating anything from anxiety to frustrating phobias. A lot of people are wary of trying something like hypnotherapy; largely because they don't really know what to expect, but there may be more reasons to give it a go than you think.
A lot of research has been done on this subject and scientists have discovered that the brain activity of someone whilst under hypnosis reflects the fact that legitimate changes are being made which has given this type of treatment increased credibility. If you have been doubtful in the past then here are a few reasons why hypnotherapy may be the next step.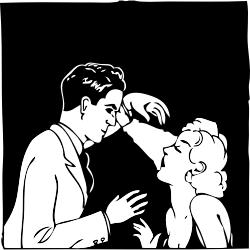 License: Creative Commons image source
You May Have Tried Everything Else –
Whether you want to lose weight, quit smoking or even cure a common phobia then there are obviously plenty of ways to do this but it's likely that you have already tried most of them. There are always new diets that come into fashion but how many of them are you willing to try before you take a different approach? With regards to smoking; hypnotherapy has been proven to be much more effective than will power alone.
The Stories Aren't True –
If you have been put off hypnotherapy because of a story that you once heard involving someone getting stuck in hypnosis and never snapping out, or you were once told of someone who accidentally revealed their deepest darkest secrets whilst under hypnosis; be put off no longer. These are just two of the common myths that surround hypnosis but both are entirely fabricated.
It Could Be A Lot Quicker –
When it comes to breaking a habit such as smoking or over eating; science tells us that it takes around 66 days to do this independently with just the use of will power. Conversely, it has been known for these habits to be broken during one hour-long session of hypnosis. There is no need to put yourself through 66 days of pain if there are simpler options available.
It's A Lasting Solution –
Because hypnosis deals with the subconscious parts of your brain, the outcome is likely to be much more of a lasting solution than other options. You may be able to break the conscious habit of smoking with a patch or through will power, but you will always experience subconscious cravings that you may one day give in to. Hypnotherapy looks at why you have problems such as overeating or anxiety issues in the first place and removes the emotion issues attached to create more permanent results.
You Have Nothing To Lose –
A lot of people worry that hypnotism will be a waste of money because it won't work on them but this is unlikely to be the case. While it is true that only a small percentage of the population are very susceptible; everybody can in theory be hypnotized to different extents. Obviously if you do go with the attitude that it is not going to work then you're are unlikely to get much out of the experience. You really don't have anything to lose other than weight, your issues with anxiety and the need to smoke.
Chris Mayhew has recently been looking into hypnosis as a treatment for a variety of problems. He is working for Fix My Mind who offer hypnotherapy in London for a range of issues from anxiety to trouble with phobias.